Unlock Your Wellbeing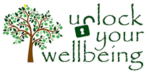 Name:
Unlock Your Wellbeing
We provide wellbeing workshops to organisations and groups to improve wellbeing, mental health and happiness. Contact us for Mental Health First Aid Training, Wellbeing training – including stress and fatigue management, as well as Happiness, Resilience and Wellbeing workshops. Brilliant for the workplace – we can help you with your Wellbeing Policy as well as wellbeing at work. We also provide one to one Life Coaching. Our aim is to improve the happiness of the communities we live and work in – could you do with that? Contact us to see how we can help.